Our Story
How We Met ! #GoSaints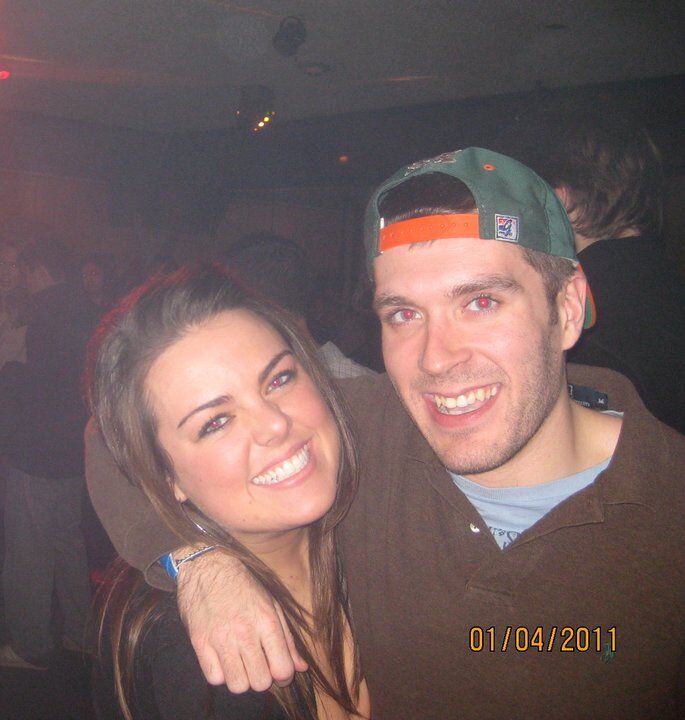 Shea and I officially met our Senior year of college at Siena. I knew who he was earlier than this because we had a computer class together, but we never really talked. Our first encounter Senior year was at a party at his townhouse. I had shown up with some of my girlfriends and just as we were walking up to his house we saw some of the guys outside dumping a Gatorade jug of who knows what on one of their roommates.....oh college. Anyway, I thought these guys were a bit odd and left the party within 30 minutes. After giving them another shot a few weeks later, we all ended up becoming friends and hanging out all the time. Shea and I decided to make things 'official' right before graduation in May of 2011! Long story short, here I am writing this over 6 years later and our #Siena story continues.....
Engagement - The Links at Spanish Bay, Pebble Beach, CA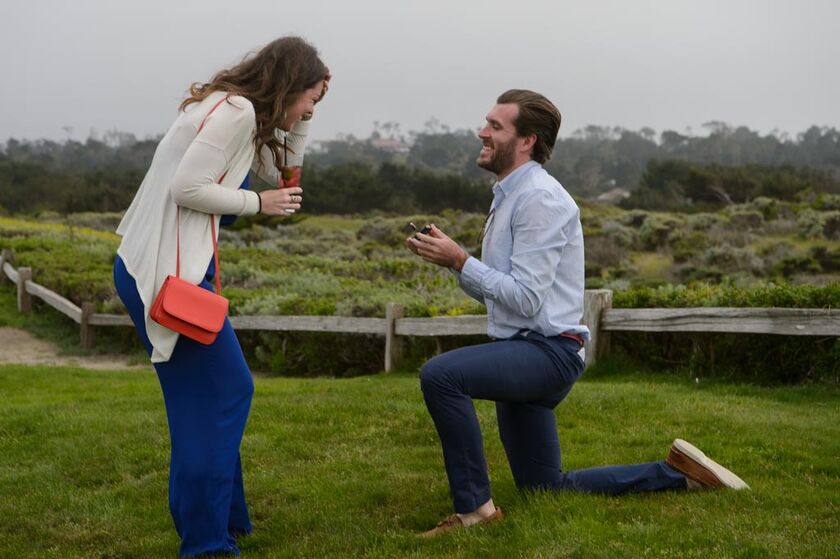 We love to travel and instead of Christmas presents or Anniversary presents we decided to put our money into a trip. We had gone back and forth between California or Europe and ultimately decided to travel down the Pacific Coast Highway in California. Shea had done part of this trip before and knew all of the places he wanted to go to. I told him a donut shop and some shopping I wanted to do and that was it, to be honest, he planned the entire trip, what a guy, I know!

We started our trip in San Francisco on Day 1. Day 2 we started our drive down the coast, first stop was Carmel-by-the-Sea. Day 2 was our 6 year anniversary and as many of you know Shea has a new found love for golf (another expensive hobby lol), and he was extremely excited to check out Pebble Beach. On our drive down to Carmel we spent a few hours driving around and exploring all of Pebble Beach, the houses, the forest, the epic ocean views and so much more, it was absolutely beautiful!
We had planned a fancy dinner at a restaurant called Roy's at The Links at Spanish Bay, which is on one of the golf courses at Pebble Beach. We got all dressed up and headed to the restaurant for a drink outside at the fireplaces and to hear the bagpiper close the golf course, which happens every night at sunset! We walked onto the patio and it was packed, however, I quickly spotted the perfect table! We sat down and ordered cocktails and enjoyed the amazing views. While I was enjoying my cocktail, Shea began asking me to walk down to the beach...continuously. As I mentioned, we were dressed up and I had heels on, so I said no (about 6 times) and asked him to sit down and enjoy his drink! Finally, he asked if I wanted to go walk to a lookout just a few steps away from our table to take a picture, so I said yes, honestly so he would stop asking. We walked over to the lookout and then Shea got down on one knee and asked me to MARRY HIM!! As I was trying to speak, I also realized there was a photographer walking closer to us snapping pictures! I could not believe what was happening. Everything I ever dreamed of plus so much more had just come true.

We spent the next hour taking pictures with Michael, our photographer, even going down to the beach like Shea wanted ;) We then continued the celebrations inside at dinner where I could not stop saying "WHAT JUST HAPPENED?!" Shea asked me to look at the menu a few times before I finally opened it and saw that he had the restaurant print menus with "Congratulations to the Future Mr. and Mrs. McKillop!" I instantly lost it! The night was perfect and still feels like a dream. As you can imagine, the rest of the trip was amazing. We enjoyed the drive down the coast, the beach, delicious food and drinks and each others company for a full week before ever having to think about going back to reality. It was a real-life fairy tale. We are so excited for the future together and all of the celebrations to come!
Fun fact - we sat next to Reggie Jackson at dinner the night we got engaged #MrOctober #LetsGoYanks ;)
The Wedding
Saturday, November 10, 2018
2:00 PM
Attire: Formal Attire
Ceremony
Siena College
515 Loudon Rd, Albany, NY 12211, USA
Reception
Saratoga National Golf Club
458 Union Avenue, Saratoga Springs, NY